Stuckism 15 year anniversary feature in Mungbeing magazine


International art movement for contemporary figurative painting with ideas. Anti the pretensions of conceptual art. Anti-anti-art. The first Remodernist art group. Daubers (daubing is the new painting). Founded 1999.
There are 236 Stuckist groups in 52 countries.

Contact

Tel: 020 8343 4282. Press contacts

here

.

Email:

stuckism@yahoo.co.uk

The General Editor of this site is Jim Dennis.

For site policy and use of material, see

here

.

Contents of site

here

Stuckists are not stuck


Twitter follow at StuckismDotCom
Facebook Stuckism group here

Private Eye, 11-24 July 2014, page 15, YBA cartoon by Birch features Darren Udaiyan's painting...
Stuckists Darren Udaiyan and Jane Kelly paint Charles Saatchi throttling Nigella Lawson.
See Daily Mail (28.6.14)


Jonathan Jones attacks Udaiyan in The Guardian (30.6.14)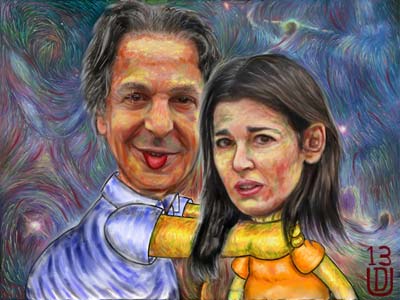 Darren Udaiyan's hit painting Saatchi and Saatchi
Stuck !!

Exhibiting artists: Jiri Hauschka, Paul Harvey, Edgeworth Johnstone, Markéta Korecková, Ján Macko, Charles Thomson, Markéta Urbanová and Jaroslav Valecka
Curator: Katerina Tucková
Vltavín Gallery
Masarykovo nábreží 36, Prague, Czech Republic
On Smartpoint website (in Czech)
27 May - 31 July 2014
Open 10 am - 6 pm daily except Monday - Free admission
A book is available of paintings by the artists with an introduction by Katerina Tucková
who will open the show. Download book here.
New link - Bevis Hillier's review here
John Bourne's review here
Ella Guru's review here

Charles Thomson in a video about the show
Other footage in this video

See Wall Street International (9.6.14) + London Art News (5.6.14)
SHOW ENDED
Charles Thomson first solo show in 12 years

CRAZY OVER YOU
100 NEW PAINTINGS BY CHARLES THOMSON
7 - 18 June 2014

12 - 6 pm (shut Sun/Mon)

Trispace Gallery
Unit J, The Biscuit Factory, Drummond Road, London SE16 4DG
Tel: 0207 252 0196. Email: info@trispacegallery.com. Tube: Bermondsey


Go to Trispace gallery
Emma Pugmire paintings in three person group show
Voluntary Action Islington, 200a Pentonville Rd, London N1 9JP
9 am - 5 pm, 5 June - 28 July 2014
Private View: 5 June 5.30 - 8pm
"Challenging concepts of art is one of the specialities of this bunch – the Stuckists" - Culture24
Some old material previously on this page is now here (opens in separate window).