International art movement for contemporary figurative painting with ideas. Anti the pretensions of conceptual art. Anti-anti-art. The first Remodernist art group. Daubers (daubing is the new painting). Founded 1999.
There are 236 Stuckist groups in 52 countries.

Contact

Tel: 020 8343 4282. Press contacts

here

.

Email:

stuckism@yahoo.co.uk

The General Editor of this site is Jim Dennis.

For site policy and use of material, see

here

.

Contents of site

here

Stuckists are not stuck


Twitter follow at StuckismDotCom
Facebook Stuckism group here

"the world's most vocal champion of figurative painting"
Charles Thomson interviewed by Mark Sheerin in Hyperallergic (10.19.14)
Stuckists not demonstrating against the Turner Prize in protest
Evening Standard
(3.9.14)
Private Eye, 11-24 July 2014, page 15, YBA cartoon by Birch features Darren Udaiyan's painting...
Stuckists Darren Udaiyan and Jane Kelly paint Charles Saatchi throttling Nigella Lawson. See Daily Mail (28.6.14)
Jonathan Jones attacks Udaiyan in The Guardian (30.6.14)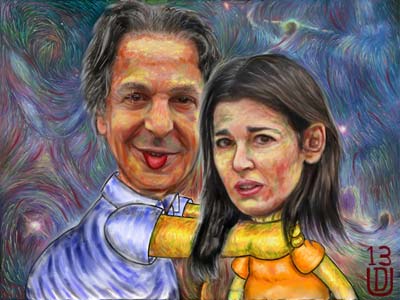 Darren Udaiyan's hit painting Saatchi and Saatchi
---
Stuckism 15 year anniversary feature in
Mungbeing
magazine
lenging concepts of art is one of the specialities of this bunch – the Stuckists" - Culture24
Some old material previously on this page is now here (opens in separate window).