International art movement for contemporary figurative painting with ideas. Anti the pretensions of conceptual art. Anti-anti-art. The first Remodernist art group. Daubers (daubing is the new painting). Founded 1999.
There are 236 Stuckist groups in 52 countries.

Contact Stuckists: 07984 914018

Tel: 020 8343 4282. Press contacts

here

.

Email:

stuckism@yahoo.co.uk

The General Editor of this site is Jim Dennis.

For site policy and use of material, see

here

.

Contents of site

here

Stuckists are not stuck


Twitter follow at StuckismDotCom
Facebook Stuckism group here


THE STUCKISTS AT CASS ART ISLINGTON



18-28 April 2017
Mon-Sat 10am-7pm (Wed 6pm).


The Cass Art Space
66-67 Colebrook Row
London N1 8AB

Tel. 020 7354 2999
Travel: Angel Tube (Northern Line) + 10 minutes walk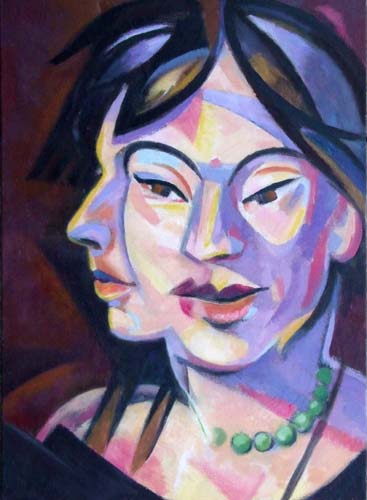 Paintings by 30 artists from UK, US, Spain, France,
Australia, China, Russia, Greece, Czech Republic

Philip Absolon, Richard Bledsoe, Godfrey Blow, John Bourne, Jonathon X Coudrille, Adam Crosland, Elsa Dax, Mark D, Eamon Everall, Andrew Galbraith, Ella Guru, Paul Harvey, Jiri Hauschka, Wolf Howard, Elfyn Jones, Jacqueline Jones, Shelley Li,, Joe Machine, Terry Marks, Remy Noe, Emma Pugmire, Lupo Sol, Alexey Stepanov, Jasmine Surreal, Charles Thomson, Ron Throop, Jaroslav Valecka, Jenny Westbrook, Michael Odysseus Yakoumakis, Annie Zamero
Private View
Thu 20 April 2017, 5.30-8pm
Artist talk
Wed 19 April, 6.30-7.30pm
Life Change in Art via Violence, the Bible and Toy Cats
With Charles Thomson, Jasmine Surreal and Joe Machine

Artist talk
Wed 26 April, 6.30-7.30pm
Making Art from Images of Fetish, Theatre, the Unconscious and the Living Room
With Charles Thomson, Annie Zamero, Eamon Everall and Ella Guru
Limited numbers to events. RSVP islingtonartspace@cassart.co.uk
Cass Art
Cass Art is on a mission. A mission to fill every town with artists, underpinned by the company's long standing manifesto. Committed to encouraging everyone to realise their creative talents, Cass Art provides dedicated Art Spaces for local artists, and is delighted to present The Stuckists at Cass Art Islington in the new gallery space at the flagship store.

Cass Art has partnered with some of the leading galleries, museums and creative brands in the UK, including The National Gallery, The Royal Academy of Arts and Sky Arts, and also supports local galleries and art institutions.

Established in 1984, the first store opened at 13 Charing Cross Road, a stone's throw from the National Gallery in central London. There are now stores in cities across the UK and an online shop providing the world's best materials at affordable prices to all.

www.cassart.co.uk

The Stuckists
The Stuckists art group was founded in London in 1999 by Charles Thomson and Billy Childish (who has since left) with eleven other artists to promote contemporary figurative painting with ideas and emotion. It has since grown to an international art movement of 240 groups in 50 countries and around 2500 members.
The Stuckists have gained international publicity for their annual protests, sometimes dressed as clowns, against conceptual art in the Turner Prize, but their primary role is as artists. They have held numerous group shows, including the Walker Art Gallery for the Liverpool Biennial, The University of Kent, and CBGB in New York. Individual artists are held in numerous collections and museums.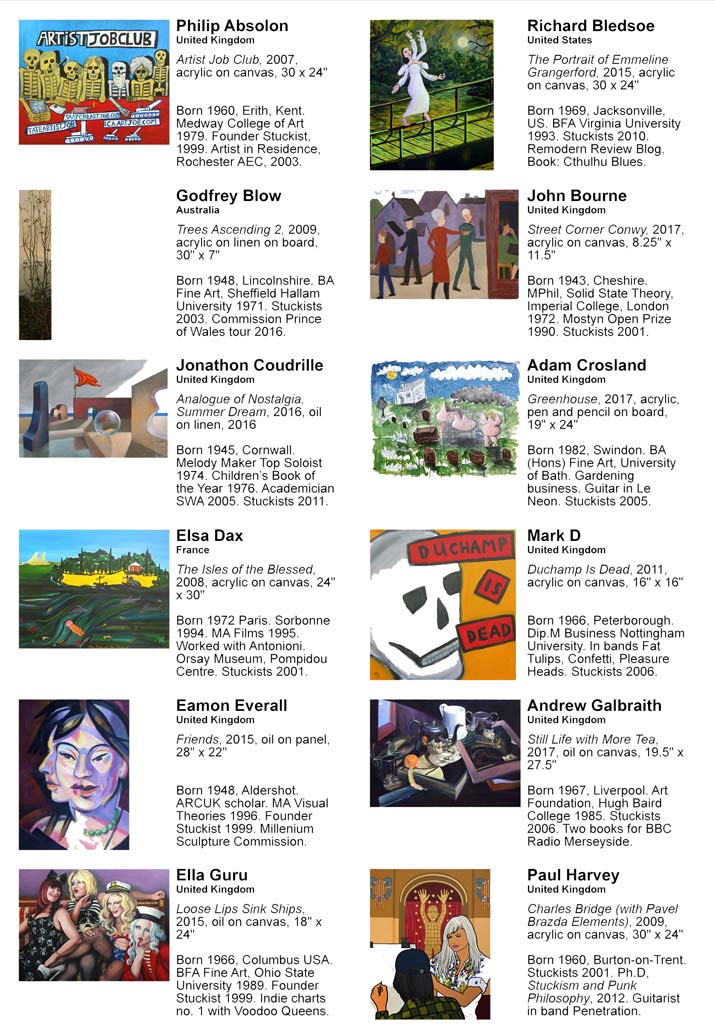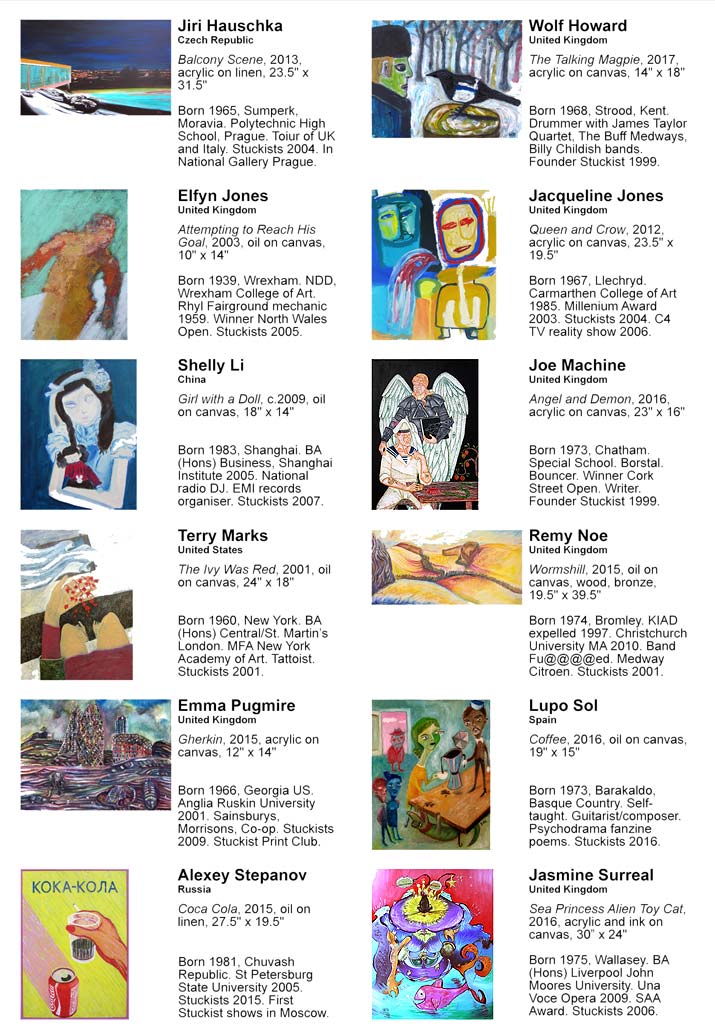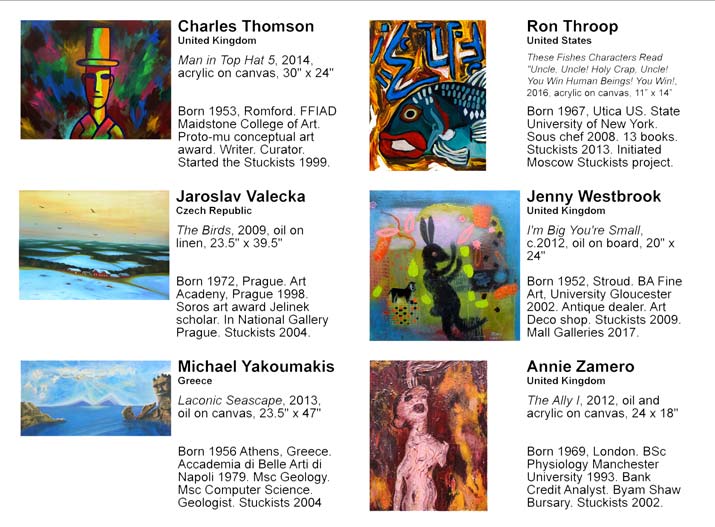 Permalink for this show: www.stuckism.com/Shows/Index2017Cass.html