International art movement for contemporary figurative painting with ideas. Anti the pretensions of conceptual art. Anti-anti-art. The first Remodernist art group. Daubers (daubing is the new painting).
There are 237 Stuckist groups in 52 countries.

Contact

Tel: 020 8343 4282. Press contacts

here

.

Email:

stuckism@yahoo.co.uk

The General Editor of this site is Jim Dennis.

For site policy and use of material, see

here

.

Contents of site

here

Stuckists are not stuck

Follow StuckismDotCom on Twitter


Jasmine Maddock: A Surrealist Life, co-authored with Edward Lucie-Smith, now out as an iBook. Preview and order here.
Review by ARTfan12: "What a awesome find! This is such a cool book! it is literally like nothing i've ever seen before… I can't really explain it as you have to see it for yourself but the videos are hilarious. It combines figurative and conceptual 'performance art'. I like getting this book out when I'm with friends as they are always as surprised by the content as I was - great conversation piece!"

Video of Jasmine enjoying herself with a broomstick here
Her paintings of the toy cats here

Joe Machine iBook Becoming the Perpetrator here.

Artists in Britain Since 1945, David Buckman's master dictionary with over 14,500 artist biographies is now online free here.


Black Francis (aka Charles Thompson) of The Pixies tweets and founds The Amherst Stuckists .

Tracey Emin buys Bill Childish painting. See Artlyst (10.12.12).

Joe Machine : Machine Evolution
Cock & Bull Gallery, Tramshed
32 Rivington Street EC2A 3LX
3-24 May 2013, Mon-Sun 11-6pm
Edward Lucie-Smith writes on Joe Machine in The London Magazine April/May 2013
FROM THE PAPERS
Penelope Curtis, director of Tate Britain, the Stuckists
and the Tarot pack in The Guardian (last item) (24.1.13)



"The stuckists have earned their place in art history more convincingly than
many of the overrated artists they have been so rude about for so long. "
Jonathan Jones, The Guardian (16.1.13)


Stuckist artists visit the Turner Prize and award the Prize for Patronising Twat.
Warning: not safe for curators.



The North Bank Show: Stuckist artist Edgeworth Johnstone in his bedroom
studio talks about his work in progress with a dog, a bird and a heart.
A must-read blog by Edgeworth Johnstone

---

Stuckist Turner Prize demo
at Tate Britain
3 Dec 2012

The demo daytime + interviews
with Stuckist artist demonstrators
Ruth Dudley Edwards on theTurner Prize and censorship:
Telegraph blog (4.12.12)
See videos below...


Writing a comment for the
Turner Prize comments board



Comment being censored from the
Turner Prize comments board


Comment allowed when censored on the
Turner Prize comments board

Charles Thomson on censorship of the
Turner Prize comments board
Watch Stuckist clown greeting guests at the Turner Prize: video here
Charles Thomson on Turner Prize winner, Elizabeth Price, as a "wannabe documentary maker who has a place on late night TV, when no one's watching". Quoted p.8 of The Times (4.11.12)
"Avant-garde? Derričre-garde I think. Dreary, pretentious, superficial, irrelevant. I don't mean the subject (as in Price's Woolworth fire - that is obviously tragic and serious) but the artistic treatment of it. If she'd have done the same thing to the Hillsborough disaster, there would be outrage. A straightforward documentary would have done the subject justice, but then there would be nothing to distinguish it from any other straightforward documentary, so in order to claim the status of art, it has to be given a mind-numbing treatment of split screens and repetitive captions, all of which are about the status of the artist, not the diginity or significance of the subject." Charles Thomson post on Jonathan Jones blog (4.12.12)
Nourishing Obscurity blog on Turner and related (4.12.12)
"Picketing the awards ceremony, as they do every year, were a handful of masked artists known as the Stuckists, who favor figurative painting and excoriate the conceptual art that, they say, is championed by Tate. 'Elizabeth Price is a wannabe documentary maker who has a place on late night TV, when no one's watching,' said the movement's co-founder Charles Thomson in a release e-mailed before the winner announcement. He made equally disparaging remarks about the other three contestants." Bloomberg and Businessweek (3.12.12)
"Since 2000 the Turner show has often attracted protests from traditionalist art activist group the Stuckists, who want a return to figurative painting." - France 24 , Breitbart (US), Google from AFP (3.12.12)
Huffington Post - 1st slideshow image is 2006 Stuckists demo (3.12.12)
Nathalie Zwimpfer in Basel, Switzerland on Turner Prize and Stuckists in Art Review blog (3.12.12)
"2000 The year international art group the Stuckists instituted the Real Turner Prize, for painters. They also staged their first demonstration against the prize, dressed as clowns, protesting that 'the only artist who wouldn't be in danger of winning the Turner Prize is Turner'." - In Numbers: The Turner Prize, Daily Mail (1.12.12) p. 40.
THE TURNER PRIZE IS BORING
- Ruth Dudley Edwards in The Spectator (1.12.12)
Art Clown of the Year Award 2012 goes to critic Richard Dorment of The Daily Telegraph for his asinine comment on the Turner Prize winner's pretentious film which trivialised a fire in a Woolworth store that killed 10 people:
"What is more, as I watched it with mounting excitement, I began to realize that I was in the presence of an artwork that has the potential fundamentally to change the way knowledge is transferred, the way we teach and the way we learn."
---
Stuckist Turner Prize demo
1 Oct 2012
"As they have for twelve years, Stuckists demonstrated outside Tate Britain against the waste of space that is the Turner Prize. I went to pay my respects to the doughty few this morning in the driving rain. Since I began researching conceptual art for a satirical crime novel, I have admired Stuckists..." Read more in Ruth Dudley Edwards' blog on the Telegraph site (1.10.12)

"For those who aren't aware of the ins and outs of Nicholas Serota or the Stuckists" The Saint (4.10.12)
"I am at Tate Britain with my friend Ruth Dudley Edwards to see the Stuckists demonstrate" Clearbluewater (1.10.12)
Stuckist demo mentioned by Ben Mirza in the Huffington Post (5.10.12)
Coxsoft says, "The most exciting thing about the show is the Stuckism demonstration outside." (1.10.12)
See the pic on the Daily Telegraph slide show (1.10.12)
"the Stuckists ... stood outside Tate with leaflets claiming 'Serota Needs a Good Spanking'" Artinfo (2.10.12)
"Since 2000 the Turner show has often attracted protests from traditionalist art activist group the Stuckists, who want a return to figurative painting." - Google (1.5.12), Orange (Botswana), (3.12.12) SBS (Australia) (2.12.12), from AFP.
---

Is It Art?
See also the bricks in the Tate gallery and Hirst fakes
See all the poems here

Charles Thomson, Stuckist co-founder, on Stuckism in Art History
See the whole series on film maker Edgeworth Johnstone's web site
---
Damien Hirst at it again (with magpies this time) The Mail on Sunday (28.10.12)
See down the page for previous incidents





Left: painting by Max McLaughlin (2008). Right: four paintings by Damien Hirst (2010)
---

Edgeworth Johnstone on Unheard Radio, University of Westminster
student radio to talk about the Turner Prize (1.44pm 16.10.12)
Stuckist and Ruth Dudley Edwards v Tate: The Guardian (3rd item) (26.10.12)

Spalding, Lee, Thomson and Ilfracombe v Damien Hirst "mafia": Sunday Express (14.10.12)

STUCKISTS: ELIZABETHAN - show ended. More info here
---
Stuckism mentioned in long-running BBC1 afternoon drama series, Doctors, series 14, episode titled "Virtuous Reality" by Jeremy Hylton Davies (17.9.12.). An artist explains to his friend about an "Interview with an American arts programme. Would not get off the idea that I was Stuckist. Said, 'Could have been a Stuckist, but stuck to what he was brilliant at ... Stuckist! It's like asking Corbusier if he did half-timbered.'" It was available to watch for a week on BBC iPlayer, relevant scene at 04:23, but that has expired now....

---

The video above is from a Design Research Methods group project at Lasalle College of the Arts in Singapore wth the aim to "research and sell the art movement Stuckism in a presentation through any form or methods that deem appropriate". Personnel: Renessa Sandhu, Keli Lim, Hui Min Lee, Serene Tan, Jiayi Watt.



Paul Harvey has just gained his PhD at Northumbria University on Stuckism, Punk Attitude and Fine Art Practice: Parallels and Similarities. More Info and thesis download available here.

Jaroslav Valecka has founded The Central Europe Stuckists. Temporary site: www.valecka.eu/stuckismus. See his work in this book. For more info email jaroslav.valecka@centrum.cz
New group founded by Wayne Wolfson: The Redwood City Stuckists (US), Aug 2012.

"Post-modernists, minimalists, stuckists, situationists – they all move to the rhythm of - Sunday Herald (Scotland) 12.8.12
"Let's talk Stuckism" on Fur Affinity Forums, 19.8.12
Forthcoming - iBooks by EB Publishing for Stuckist artists Joe Machine and Jasmine Maddock.
Mark D and the Stuckists in Nottingham. Read the review here (6.7.12).
Stuckism was part of an A Level exam paper, thanks to Paul Harvey and Charles Saatchi's cheese halo. See The Journal (Newcastle) 7.4.12.

---



Damien Hirst demo at Christie's (14.10.10) - police called after harassment
WHAT CHRISTIE'S DOESN'T WANT YOU TO SEE HERE

Good artists borrow, great artists steal, crap artists get caught stealing.
THE ART DAMIEN HIRST STOLE
Read it on 3am / stuckism

The art Damien Hirst Stole - part 2 on 3ammagazine (9.4.11)

"A fake Hirst is not a Hirst not made by Hirst, of course, as Hirst does not make his own work anyway.
It is a Hirst not made by Hirst which Hirst says is not a Hirst, though in all other respects it is quite
possibly identical to a Hirst not made by Hirst, which Hirst says is a Hirst."
- Charles Thomson quoted in the Daily Mail (6.11.10)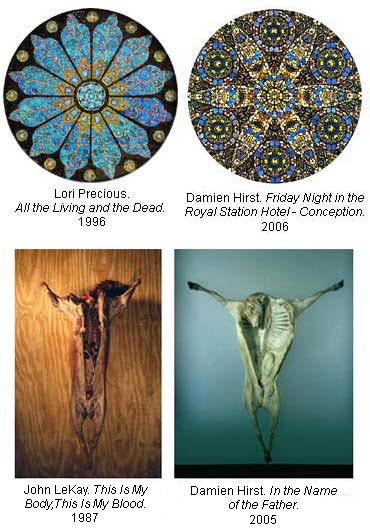 Above: two original artists
and one not quite so original.
BBC (3.9.10): Hirst's press officer promises a "comprehensive" rebuttal. We look forward to that. Ah, this must be the comprehensive rebuttal:
Question: You have repeatedly been accused of plagiarism. Is there any truth to the claims?
Damien Hirst: It's just gibberish, isn't it? Just ridiculous. It's nothing really.
The Observer (26.9.10).

Question: Why is it impossible to show your work?
John LeKay: Because now everyone who sees it now says it looks like a Damien Hirst artwork ... it appears that Damien thought that when I walked away from the art world back in 95, that gave him carte blanche to take anything he wanted. Maybe he saw it as free pickings, sifting through my work like a vulture. His problem is that I'm still alive and kicking and have no intention of going away.
Johnlekay.com


If you can't see the video click here.
DAMIEN HIRST PLAGIARISM
THE GUARDIAN (2.9.10)
(in print 3.9.10)
Also Artinfo (2.9.10), Juxtapoz (2.9.10), The Daily Telegraph (3.9.10). Público (Portugal 3.9.10).

Other coverage: Animal (8.9.10), Finchley Times (9.9.10), Mediabistro (9.9.10), The Awl (10.9.10), Flavorwire see here (10.9.10), The National (UAE) (11.9.10). Photo on Flash Art (c.25.11.10).

Art Fag City (6.9.10), Peter Friedman Associate Professor, Legal Analysis & Writing Case Western Reserve University School of Law, gives the legal angle (7.9.10). Big Think (7.9.10). A report on London Art News (9.9.10).

Natasha Nicole Waddon is not happy with all thist. See her blog (2.9.10).
---
NEW JOE MACHINE WEBSITE: www.joemachine.info See his page on this site here
Artista Eli on Stuckism - Revelations of a Revolution in Artiscape (Jan 2012)
Streaker at the Turner Prize from Channel 4 live blog (5.12.11).:
"21:00: The consensus is the "streaker" had "study this" written on his belly. A stuckist? Or a student protester?"
Jonathan Jones in his Guardian blog on the Turner Prize and his Stuckist portrait (5.12.11).
"Billy Childish ... was the founder of the so-called Stuckists, who stand every year with their posters outside the Tate, protesting that the Turner Prize is all a load of tosh." - Rachel Campbell-Johnston, The Times T2, p. 1 (13.7.11)
Bill Lewis featured on cover of Wow Medway (Sept 2011). See his work here.
Charles Williams new book: Basic Drawing: How To Draw What You See. See his work here.
Show ended
The Enemies of Art
A show which featured UK, Prague and international Stuckists at Lauderdale House, Highgate, London.
Opening with Michael Žantovský (Czech Ambassador to the UK), Edward Lucie-Smith (critic and author),
and Robert Janas (founder of The Prague Stuckists). A book The Enemies of Art, with an introductory essay
by Edward Lucie-Smith, is published by Victoria Press. Photos and video here.
---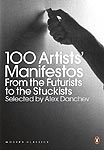 100 Artists' Manifestos: From the Futurists to the Stuckists
( Penguin Modern Classics)
Edited by Alex Danchev. This includes three Stuckist manifestos. More here.


---
Some old material previously on this page is now here.