THE PLACE OF CONCEPTUALISM
by Gina Bold
10.2.03
The problem is that they ever tagged this stuff with the title 'art'. When photography was introduced it was called photography, not photo 'art. It has its place alongside art, but was originally never confused with traditional ideas of what art is.
Conceptual 'design' would have been a better tag - then "what is art?" would not be at question.
There is a place for some of those ideas, the ones that make you think about the throw-away society we live in, but they move people in a different way to the emotional creativity that we can appreciate in a painting.
The thing that keeps coming up is public money going into conceptual art: people don't like it.
NOTHING SENSATIONAL ABOUT IT, SIMPLY SENSATIONALISM....
Dave Lancet attends the opening of the controversial Sensation Exhibition in New York. Read his entire report here. 2.10.99
STUCK IN NEW YORK: A week in New York City
J. Puma, Seattle Stuckist
12.7.01
New York is a city of beasts and schizophrenics. It was hotter than the Devil's Knee-pit in New York: 110 degrees Fahrenheit (43 degrees Celsius) with the humidity. Tempers flared; the theme of the week sweated from pores and coalesced as enmity. In the heat, it's harder to stay in your own world, harder to maintain the wall that separates you from others, and you find yourself split into multiple faces: one for the train, one for the street, one for elevators, one for your friends, etc. Two giant, mu-mu clad women burst into a spontaneous fist-fight in Grand Central Station as I walked past; a crowd gathered, but nobody volunteered to help break up the fight. It was like watching a struggle at a zoo between a Rhino and a Hippopotamus-- who wants to get in the middle of that? more...
ORIGINS OF STUCKISM: THE MEDWAY POETS
Sept 1999
Stuckism began in the mid 70's in North Kent. Various people had constellated via Medway College in Chatham (Billy Childish, Bill Lewis, Philip Absolon, Sanchia Lewis, Sheila Clarke) and Maidstone College of Art (Charles Thomson, later Charles Williams also).
Although painting shows were staged, poetry took more prominence at this stage. Bill Lewis with his friend Rob Earl arranged some readings called 'Outcrowd' in Maidstone. Alan Denman, a tutor at Medway, arranged some in the York pub, Chatham.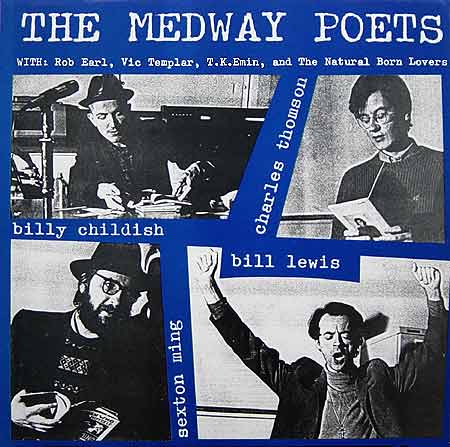 A group called 'The Medway Poets' was formed. Alan Denman was a member for the first two readings. Thereafter the group consisted of Billy Childish, Charles Thomson, Bill Lewis, Sexton Ming, Rob Earl and Miriam Carney. They were ambitious, fulminating and dynamic, performed with punk groups, featured in a TV South documentary, read at the International Cambridge Poetry Festival and can be found on the Medway Poets LP (Hangman Records).
Sexton Ming was saved from throwing himself out of a speeding car. Alan Denman finally punched Billy Childish. Billy and Sexton heckled Charles Thomson's poetry readings - the latter then became the first person in eight years to be failed by the Painting Department of Maidstone Art College. Billy started Hangman Books and Records. Bill Lewis started Lazerwolf Press. Charles started the Cheapo Press. John Wilson (Principal of Gravesend AEC, known as the Victoria Centre) hosted events and Victoria Centre Writer-in-Residence, Richard Burns, started the Victoria Press (later taken over by Charles Thomson) funded by John Wilson.
Tracey Emin was a fashion student at Medway College and took part in some of the later readings. One evening at the Victoria Centre she sat on stage in a grubby mac and, after a tedious and embarrassing period of indecision, finally took it off to reveal a pink basque and stockings. This was a great let-down to the audience who were expecting bosums at the least. She then read Billy's poems out (by which time he had fled from the hall). Later she became a student at Maidstone Art College and got a first class degree. Charles Williams went on to the Royal Academy winning the Silver Award for best student of the year.
From the mid-eighties to the mid-nineties the personnel went their separate ways, with occasional reforming for particular occasions.
At Christmas 1996 Billy Childish and Charles Thomson (with respective partners) bumped into each other in the Odeon, Leicester Square, after a screening of Wayne's World. Two years later there were phone conversations betwen Childish, Lewis and Thomson about a possible Medway Poets anthology, which everyone said everyone else was taking care of, with the result that nothing happened.
It had brought Thomson and Childish in conversation again, after the earlier period of clashes, and they found to their surprise their interests had matured and converged over the interval. They had adopted parallel spiritual interests in, respectively, Kabbalah and Buddhism, and had both formed embryonic art groups.
On 28 January 1999, before a poetry reading, Thomson suggested to Childish in the latter's kitchen in Chatham that they join forces under the title 'Stuckism' which he had derived from Childish's poem quoting Emin's diatribe to her ex-boyfriend that he was "Stuck! Stuck! Stuck!" for his commitment to painting (and his style of music and poetry).
All the essential policies and practices of the Stuckist group were stated at the same time.
Related pages
Steve Spence's critique of The Medway Poets and Stuckism here.
Richard Burns on The Medway Poets here.