DAMIEN HIRST SOTHEBY'S AUCTION 2008
See also A Dead Shark Isn't Art


SHARK SPOT THE DIFFERENCE COMPETITION
Answers below
Left: Eddie's shark in Stuckism International Gallery 2003 only £1,000,000.
Right: Damien's shark in Sotheby's 2008 only £9,500,000 (photo International Herald Tribune).

Moira G. Weigel comments on Hirst and the Stuckists on forbes.com 18.9.08
"The rather magnificent Stuckist movement of figurative artists has a simple explanation: the art establishment in London has been dominated for too long by an in-group which favours only the conceptual art of Hirst and his colleagues." - Nick Cohen, Evening Standard 17.9.08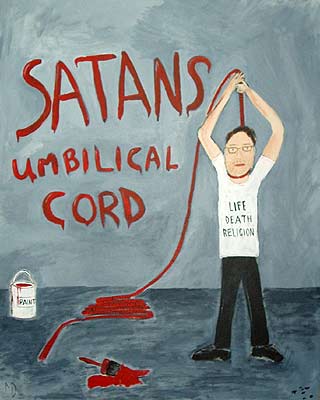 Damien Hirst: Money for Old Rope
by Mark D
STUCKIST QUOTES
by Charles Thomson, Co-founder of the Stuckists
"the art world has gone stark raving bonkers."
The Times 16.9.08. Also in Virgin Media, Evening Echo (Ireland), The Sunday Business Post (Ireland), Ireland online, Irish Examiner
"mad to buy Hirst's work at such prices."
AFP 16.9.08. Also in The West Australian, Brisbane Times, The Australian, Mercury (Tasmania), The Canberra Times, The Economic Times (India), Arab Eastern
"not art but a 'designer label'"
Forbes 17.9.08. Also in
"It won't last forever."
Reuters 16.9.08. Also in Yahoo News, The US Daily, Tiscali news, MSNBC, Calgary Herald, Ottawa Citizen, The Windsor Star
"Collectors ahead of the game, such as Charles Saatchi and Helly Nahmad - both major fans in the past - have already offloaded their Hirsts."
Read the full statement and Mark Vallen's "An Art World Mesmerized by Bling " on Art for a Change 18.9.08
"Sometime in the future people will be laughing their heads off at all this. Actually, quite a lot of people are right now. One of them is Damien Hirst, on his way to the bank."
Associated Press 16.9.08. Also in CNN, NPR, Los Angeles Times, International Herald Tribune, Washington Post, Forbes, Crain's New York Business, The Huffington Post, ABC 7 (Washington), Times Union (New York), News Day (New York), The Herald (South Carolina), Newsvine (Seattle), The Seattle Times, Contra Costa Times, Austin-American Statesman, AOL, Philadelphia Enquirer, The News & Observer (North Carolina), WRAL (North Carolina), Star Tribune (Minneapolis), Bay News 9 (Florida), Seattle Post-Intelligencer, The Examiner, Journal Gazette (Indiana), Gulf Live (Alabama), Times Daily (Alabama), NJ (New Jersey), News 8 (Virginia), Rocky Mount Telegram, Tucson Citizen, CBS 6, CBS 8 (San Diego), Nola (New Orleans), Mlive (Michigan), Cox (San Diego), Mercury (San Jose), In York (Pennsylvania), Sun News (Cleveland), The Oxford Press (Ohio), WTOP, The Record (Ontario), CFRB (Toronto), Dose (Canada), CBC (Canada), Cape Times (South Africa), Sydney Morning Herald, Newser, International Business Times, Conde Nast Portfolio, Salon.com
"some people have more money than sense ... Hirst repeats ideas that are already in common currency, but merely makes them a larger size, gives them a pretentious title and puts them in an inappropriate context of art."
...
"If the same items were in a gift shop at the seaside, nobody would bother looking twice at them."
...
"It shows the triumph of marketing over substance, and operates on the same level as a craze in the school playground for Teletubbies or Teenage Mutant Ninja Turtles."
Sky News 16.9.08
Quotes above from Charles Thomson, Stuckist co-founder
Search results for these quotes on google.
Yorkshire Post
and Western Daily Press - Stuckist shark 17.9.08
The First Post on Hirst's next plan and stark raving bonkers 17.9.08
BLOGS
Coxsoft questions the value of the Stuckist shark 16.9.08.
Art Fag City doesn't ask the Stuckists for a comment on Russia's Central Museum of Armed Forces 17.9.08
3am Buzzwords shark attack 18.9.08

SHARK FOR ONLY £1,000,000!
SAVE £8,500,000 ON THE DAMIEN HIRST PARODY!

A shark displayed two years before Damien Hirst's first shark is on sale for the unmissable bargain price of only £1,000,000, a considerable saving on the £9,500,000 sale price of Hirst's latest version The Kingdom sold at Sotheby's.

Eddie Saunders displayed the shark in his former JD electrical shop, Shoreditch, from 1989 - two years before Hirst. In 2003, it was put on display in the Stuckism International Gallery, and is titled A Dead Shark Isn't Art.

Why settle for expensive imitations when you can get the original for less!

More information on the shark here.
Contact Stuckism for further details. Confidentiality assured.
Offer valid till 31.9.08. Terms and conditions apply.


Will Tim Marlow, director of exhibitions at White Cube, be the 2008 Art Clown of the Year? This is what he had to say about Damien Hirst's spot paintings: "They're incredibly original and counterbalance the decline of originality in the history of painting. It's taking something that looks machine produced but is actually painted by hand. What we see is not what we see." Independent on Sunday 14.9.08
SHARK SPOT THE DIFFERENCE COMPETION (SEE ABOVE)

ANSWERS
* There is only one shark in the left hand picture.
* Eddie owns the left hand one. A fucking idiot owns the right hand one.
*There's no bloody difference..