In 2004, the Tate appealed to artists to donate work to the gallery because of its shortage of funds to add to the national collection.
On 14 February 2005 Sir Nicholas Serota replied to the offer of a donation of 160 Stuckist paintings that had been exhibited by a national museum, The Walker Gallery, as a major show for the 2004 Liverpool Biennial, and said that this offer would be put to the trustees to secure a response.
On 22 July 2005 he wrote to reject the offer, saying that "the works in question have been reviewed by our curators and presented to the Board of Trustees," and commenting, "We do not feel that the work is of sufficient quality in terms of accomplishment, innovation or originality of thought to warrant preservation in perpetuity in the national collection."
It subsequently transpired that during the time the offer was being considered, the Tate had been involved in a secret fund-raising drive for £705,000 to buy The Upper Room, a work by Chris Ofili, one of the Tate trustees, who had rejected the Stuckist donation.
Its director, Sir Nicholas Serota, said that the works did not deserve to be in a national collection, even though their five-month exhibition last autumn drew thousands of people to the Walker, one of the outstanding collections of fine art in Europe and part of National Museums Liverpool.
Whole story in The Times here
---
MORE MEDIA COVERAGE
The Tate's rejection of the Stuckist donation of 160 paintings appears 21 Aug 2005 in The Sunday Times magazine's cover story Wonder Walls on Tate Britain's rehang here
Story also covered by: www.independent.co.uk, www.artnet.com, www.artsjournal.com, www.artshole.co.uk, www.guardian.co.uk, www.irishart.com, www.artcyclopedia.com, home.iprimus.com.au, Ohio State University (28.7.05), www.artshub.com, majorityrights.com (30.7.05), Europe Media Monitor, Wikipedia
---
BLOG RESPONSES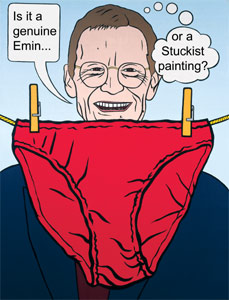 "If you didn't think the Tate was woefully out of touch the news this week that it rejected a gift of 160 paintings by the Stuckists..... makes it painfully clear." -Nate Lippens, Seattle blogsite www.thestranger.com
"...all that representational crap is just too boring and unoriginal to be worth collecting, even when given away for free, but canned feces? Pure genius, clearly worth 40 times its weight in gold!" - foreigndispatches.typepad.com

Blogs on www.thestranger.com, www.theperfectworld.us, www.thenonist.com, University of Michigan, www.newmusicbox.org, overease.blogspot.com, http://blakkbyrd.blogspot.com,

Read Mark Vallen's Art for a Change blog here
Discussion on http://foreigndispatches.typepad.com
In Russian art info Russia,
Interview and debate on BBC Radio 5 Live. Reported in The Week magazine (5.8.05).
Picture above adapted from "Sir Nicholas Serota Makes an Acquisitions Decision" by Charles Thomson
---
REJECTION LETTER
Tate
Millbank
London
SW1P 4RG
Call +44 (0) 20 7887 8000
fax +44 (0) 20 7887 8007
Visit www.tate.org.uk
PC10.1 Stuckism/cs
22 July 2005
Charles Thomson Esq
Dear Charles
I am writing with regard to the offer to donate to Tate a number of works by artists associated with the group Stuckism International. As discussed in our earlier correspondence, the offer and images of a considerable number of the works in question have been reviewed by our curators and presented to the Board of Trustees.
I regret to say that they are agreed that this is not an offer we could accept, though the generous spirit in which it is made is much appreciated. I am sorry that this is a disappointing response. All acquisitions entail a significant commitment of care and future expense and pressure on our resources means that even proposed gifts must be considered with great care. We do not feel that the work is of sufficient quality in terms of accomplishment, innovation or originality of thought to warrant preservation in perpetuity in the national collection.
I should say, it has been suggested that we should ensure that the Tate Archive, as the national record of art in Britain, properly represents the contribution of the Stuckist movement to debates about contemporary art in recent years. I have asked our Archivist to check what material we have recording your various events and demonstrations, particularly relating to Tate and the Turner Prize.
Please extend to all the artists involved my thanks for bearing Tate in mind when considering this generous offer. I am sorry we cannot respond more positively.
Yours sincerely [unclear]
Sir Nicholas Serota
Director
Scan of letter here
---
SECRET DECISION
The minutes of the July meeting of the Trustees are on the Tate website. There is no mention of the offer or any curators' report, and no record that any decision at all was taken on this offer by the Trustees. This is yet another example of the secrecy in which the Tate conducts its business with a distinct lack of openness (which Tate Chairman Paul Myners has called "corruption").
Even work acquired is hidden in anonymity:
10 Acquisitions for Decision (agenda item 12) The Trustees approved the proposed acquisition.
What was this proposed acquisition that was approved? The public are not told, but this is a public body spending public money on work for the public, which the Tate is failing in its duty to keep informed.
The Tate states, "The Board of Trustees of the Tate Gallery is required to follow the principles established by the Nolan Committee in the conduct of public bodies." One of these is:
"Openness - Holders of public office should be as open as possible about all the decisions and actions that they take. They should give reasons for their decisions and restrict information only when the wider public interest clearly demands."
Tate Trustees July minutes online on this site here, on Tate site as pdf here
Nolan Committee Seven Principles of Public Life here
Note: The Tate has since changed its policy on trustee minutes and is not censoring quite so much of them. The revised version can be found on the Tate site here. It says:
Mr Debbaut explained that the Stuckists had offered a large number of works to Tate (some, but it was not clear all, as gifts) following an exhibition held at the Walker Gallery in Liverpool. Curators and the Collection Committee had recommended against accepting the gift. The Trustees were advised that there may be some media coverage of the Stuckists' likely negative reaction to this decision.
---
"PAINTING IS THE MEDIUM OF YESTERDAY"
- Tate Chairman, Paul Myners
The above is a comment made to the Stuckists during their demo outside the Turner Prize in 2004, at which time Paul Myners CBE was Chairman of the Tate, Acting Chairman of Marks and Spencer, Chairman of Aspen Insurance and Guardian Media Group, member of the Court of Directors of the Bank of England, Non-Executive Director of the Bank of New York. Paul Myners was elected Tate Chairman in 2004 on 1 April. The Tate trustees are responsible for deciding on acquisitions (see Ofili trustee scandal here). In 2008 Paul Myners was made Lord Myners.
And for the medium of today:
To find out what the Tate does think worth acquiring click here [link changed since 2005] for its list of new work in the collection. The first artwork, by Jennifer Allora, consists of: metal coathangers, ham radio transmitter, aerial.
An example of how the Tate represents painting here (NB in 2005 this work was listed as a painting: it has since been reclassified as "mixed media sculpture").