WHITE CUBE DEMO 2002
The Death of Conceptual Art
25 July 2002
A demonstration held on the opening of the Stuckism International Gallery, 3 Charlotte Road, Shoreditch,
London, when a cardboard coffin was carried across Old Street into Hoxton Square outside the White Cube
Gallery, this being the dealer for Damien Hirst, Tracey Emin and a number of other undesirables. On top
of the coffin was a picture of Damien Hirst's horrible shark and Tracey Emin's grotty bed. The coffin was
left outside the White Cube (which was closed for renovation) on top of three traffic cones. Then some
workmen threw it in a skip, so we went back and collected it. When the Stuckism Gallery closed in
February 2005, the coffin was destroyed, but if it ever becomes a collector's item, we will make a limited
edition of several thousand.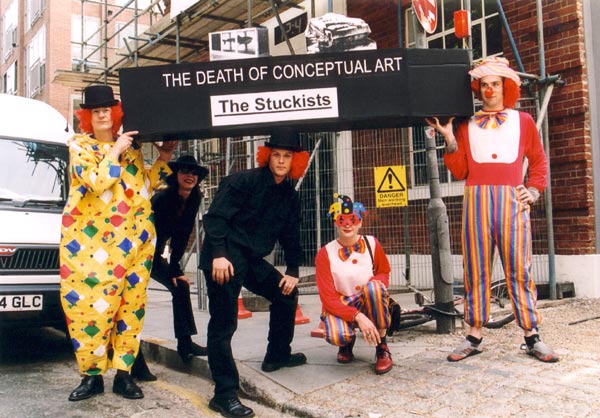 Stuckist demo outside White Cube Gallery, Hoxton Square,
with coffin marking the death of conceptual art, 25 July 2002.
Left to right: Charles Thomson, Gina Bold, Joe Crompton, Mary Stockhausen, Alex Pollock
The photo above has been used on 3ammagazine (2002), The Stuckists Punk Victorian book (p.19, 2004), The Age (16.4.05), Adam Sullivan thesis, Squandermania (20.1.09), and con-doc (4.2.09). A similar photo was on Outsidethewhitecube (23.2.09).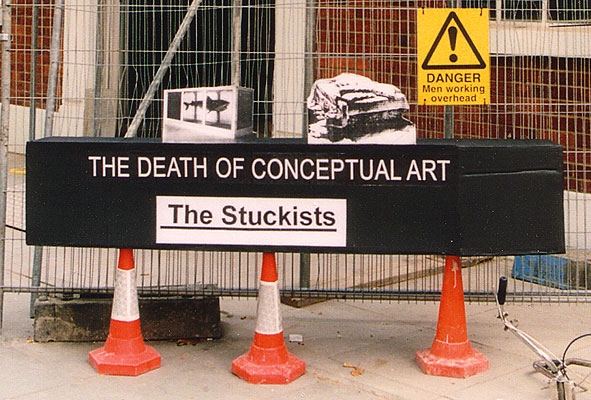 The coffin outside the White Cube gallery in Hoxton Square, London.
A classic piece of conceptual art as enacted by the Stuckists, replete with iconic irony.

More photos of demo on www.paulharveypaintings.com