Futurism and Stuckism on BBC site (20.2.09)
Listen to the Stuckist manifesto here
Read The Other Muswell Hill Stuckists manifesto here - issued 100 years after the Futurist manifesto.
Satisfaction at artwordstea.blogspot (20.2.09) • Discussion at metafilter.com (20.2.09) • Coxsoft comments (23.2.09)
Ben Lewis mentions Stuckists in The Observer (19.4.09)
Spoonfed quotes Stuckists on Gormley's gormless idea for the stupid plinth. See here (16.3.09).
Paul Myners, ex Tate Chairman, all change, no difference: Independent (3.3.09) (bottom story)
YBAs: Lucky Kunst or Lucky Cunts? Review on 3ammagazine.com (24.2.09)
Renowned triavialist Paul Paquet on punk poets, including the Medway Poets. See Trivia Bits (23.2.09)
Tate Cruises: hoist the Unjolly Roger on Counterpunch (13.2.09)

Shows recently ended: Five Female Stuckists, Stuck in Wood Green, Stuck on Painting (Female Stuckists). See here.
Stuckists AN ANTIDOTE TO THE GHASTLY TURNER PRIZE (2008) + Prague Stuckists in the Czech Republic here.
James Cauty of KLF, Jamie Reid (Sex Pistols graphics) and Billy Childish on redragtoabull.com wave a red rag at Damien Hirst, who threatened legal action against a 16 year old for using his jewel skull in collages. Please send images as JPGs at 72dpi and no more than 650 pixels wide to myart@redragtoabull.com Cartrain gets the first Heyokamagazine Award. See where Hirst gets his ideas from John LeKay here and here.
Coverage on bloomberg.com (10.2.09), myartspace (11.2.09) and artinfo (11.2.09).
Also The Independent (13.2.09) with pics and Deborah Orr (bottom of page).
Waldemar catches up at last.
In the 19th century, the art establishment was sure of its greatness. Critics, artists, collectors and curators agreed that the standards they proclaimed were of great art and would endure. They were wrong. The current art establishment is likewise sure of its greatness. Critics, artists, collectors and curators agree that the standards they proclaim are of great art and will endure. They are also wrong ... we find a direct equivalent to Victorian academia.
- Billy Childish and Charles Thomson in December 2000
What we have here today is a situation that parallels events in France in the 1860s, when the Paris salon became too powerful ... The Tate is the salon of today: pompous, arrogant, all-powerful and utterly convinced of its superiority ... Just as the Paris salon favoured the conceptual over the actual — pretentious history painting over vivid snapshots of everyday life — so the Tate supports art that imagines it is on a higher plane than the everyday.
- Waldemar Januszczak in January 2009

Vicki is in the 6th form and explains: "I spent the morning in History of Art class learning that some people believe that pickling animals is a form of art. The Stuckists disagree, apparently. I am so concerned that I actually have to write an essay on this for an exam: it seems a little unrealistic." Blog here. (Now closed after 15 seconds of fame.)


What's in store for 1999? Read on spoonfed 19.12.08 - Stuckist prediction at bottom of the page
Abby Jackson interview on Heyokamagazine 18.12.08


What is wrong with Sir Nicholas Serota? 3ammagazine, part two here 10.10.08.
Also on heyokamagazine.com
What is wrong with Sir Nicholas Serota? 3ammagazine, part one here 6.10.08.
Serota attacks Stuckists in Varsity, Cambridge Student newspaper, 3.10.08 online or pdf.
Letter in Varsity 17.10.08 pdf (page 2) replying to Serota
Charles Thomson, Stuckist co-founder, was on BBC London radio 94.9 FM on Christmas Day, 7.15 - 10.00 pm, Tessa Dunlop show.
Bad photos of drawings by Laura Mathews on her blog 18.12.08 (see above for her in demo pics)
Charles Thomson and Stuckism on Bloomberg (19.11.08)
Why does David Ross, Deputy Chairman of Carphone Warehouse, have his photo in the National Portrait Gallery collection? Evening Standard 11.12.08.
Kari Seid, recent founder of the first
Stuckist group
in South Africa says: "Stuckism has freed me from the bounds of the conceptual gallery centred power-seat which predominates in contemporary art today. Before i stumbled upon the "Stuckist Manifesto" in a bookstore in an arbitrary place in Lakeside Cape Town, I had been in the throws of a severe Artist's Block for more that two years, and ready to hang up my paintbrush in disillusionment forever. I identified with the Manifesto in every way. It breathed life into my tired soul, gave me hope and a new reason to paint again. I am NO LONGER stuckstuckSTUCK, and am inspired to call myself a STUCKIST as all that matters to me now is painting paintingPainting!"
Charles Thomson, Stuckist co-founder, was on a panel discussing "Will the recession be good
for art?" at the Art Festival at Hay, 5.30 pm, Sat 29 November 2008.
Georgina Hall paints portraits of Stuckists as a homage to the movement, Leeds Met Uni here.
"savage satires by Mark D, Nottingham's own Stuckist who's sticking a rigid digit up at celebrity culture" - Nottingham Evening Post (24.10.08) reviewing Open at The Art Organisation gallery, Nottingham.
Meanwhile take the Stuckism quiz.
Billy Childish in The Sunday Times 12.10.08 + "influential" Stuckists.
Polly Toynbee decides "stuckist" is a handy world in political commentary and Robert Philpot answers back - Etymology 8.10.08
Stella Vine, Rupert Mallin, Cathy Lomax, Billy Childish, Gina Bold: Herr Von Stuck's Hot Gossip
Spain speaks out - International News 6.10.08
Germaine Greer thinks Robert Hughes is a stuckist in The Guardian 22.9.08
Response to Germaine Greer in Guardian Letters 27.9.08
Pietro Psaier hoax Daily Telegraph 17.9.08 Also NY Sun 18.9.08
Damien Hirst auction. See here
Stuckist artist Michael Dickinson acquitted in Turkish court case collage (25.9.08). More here.
back to top
Stuckism article in Summer 2008 The Oldie magazine, p.12. Read it here.
Available from newsagents. Get three issues for £1 with this special offer, or a sample issue from 0845 357 3613.
Take the Eamon Everall quiz on quizmoz
Read about Karachi Stuckist, Asim Butt (who recently visited London), on pakistaniat.com 16.7.08

Steve Bell, cartoonist of The Guardian If... comic signs the Michael Dickinson protest petition on mungbeing.com 17.7.08
Jane Kelly's paintings indicate the taste of Daily Mail boss, Paul Dacre, potential Tate trustee. The Guardian 1.7.08 See her painting of him here.
NEWS FROM ELSEWHERE
Photos of the Stuckist Poets reading at the Sun and Doves, Brixton, (14.4.08) on flickr (first 8 photos)
"Get Stuck on Art" in the Waltham Forest Guardian 25.6.08
Stuckist artist Paul Harvey's work follows in the footsteps of Alphonse Mucha in new poster campaign for Job cigarette papers. See Crain's (16.6.08) and newswire, and Paul's work on the Job site. A poster in situ here.
Eye on Art: What is Stuckism? with the Stella Vine connection by editor Ryan Slade on AlrightLondon (2008)
If Hitler had been a hippy ... and if the Chapmans had grown up. Counterpunch (31.5.08) Also on Heyokamagazine + comment by Mark Vallen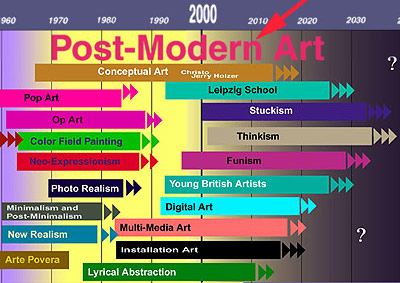 "The Stuckist Revolt" by Stacey Allison in ArtShow magazine (1.1.08)
Left: part of ArtShow magazine's timeline. Click image to go to the whole timeline.
Image courtesy of ArtShow magazine.

Nigella Lawson
by Paul Harvey


Lara speaks
The ideal Stuckist pinup

Abby Jackson speaks!

Stuck in the future

Pola speaks!
Top artists websites: 1) White Cube 2) Saatchi Gallery 3) Stuckism 4) Tracey Emin 5) Damien Hirst -The Times
"One of the largest, most international and most active art sites on the internet" - Edward Lucie-Smith Art Review
"Stuckism art is beautiful, fierce and awkward at times but ultimately it repressents passionate, political, unafraid artists. It is absolute, true, uncontrived art." www.somascene.com