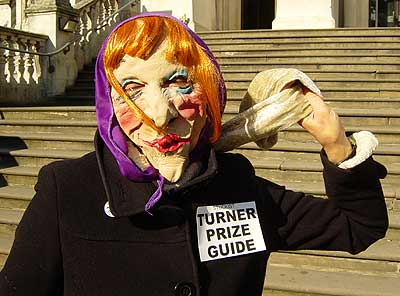 Annie Zamero
"the mediocre standard has almost turned me into a supporter of the Stuckists"
- Richard Brooks The Sunday Times (4th item) (5.9.08)

Demo in Newsweek (4.9.08)

Alexis Hunter - essay and photos on her site.
See article on 24hourmuseum
"'Is it all a fix?' read the placard belonging to art group, The Stuckists, who were yesterday handing out leaflets reading 'The Turner Prize is crap' outside the Tate Gallery's Turner Prize Exhibition." - The Architects' Journal (30.9.08)
STUCKIST QUOTES
"The Turner Prize is crap"
Reuters (29.9.08), (also Washington Post),
The Guardian, The Independent (30.9.08),
The Financial Times (30.9.08)
"The work is not of sufficient quality in accomplishment, innovation or originality of thought to warrant exhibition in a national museum."
The Times (29.9.08), The Scotsman (30.9.08)
Coxsoft was there first (29.9.08)
Ben Street on Art Review (6.10.08) on traditional Stuckist demo
"Pop! talk" video on the prize features a quick still of the 2003 Stuckist demo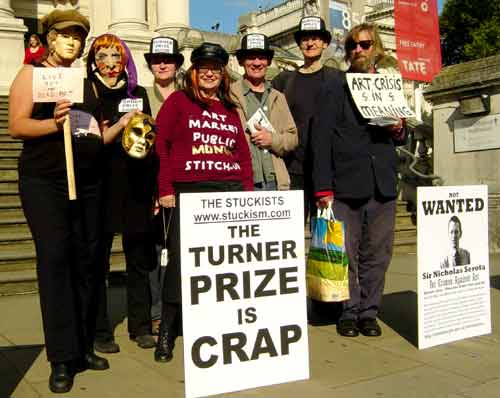 Left to right: Elsa Dax, Annie Zamero, Jacqueline Jones, Alexis Hunter,
Daniel Pincham-Phipps, Charles Thomson, Philip Absolon.