Stuckists Turner demo 1 Dec 2008 - night
Video by Rick Friend of Production Friend


Stuckists Turner demo 1 Dec 2008 - day
Video by Rick Friend of Production Friend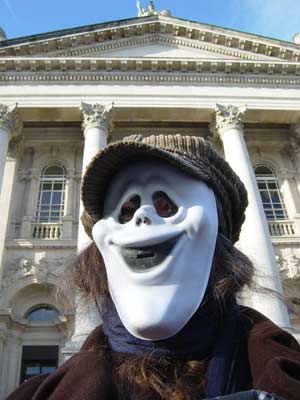 Elsa Dax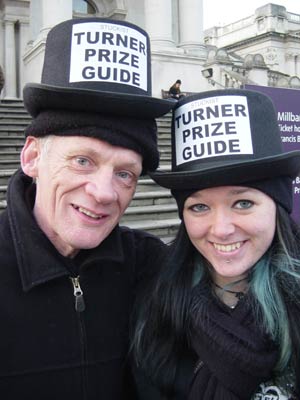 Daniel Pincham-Phipps and Laura Mathews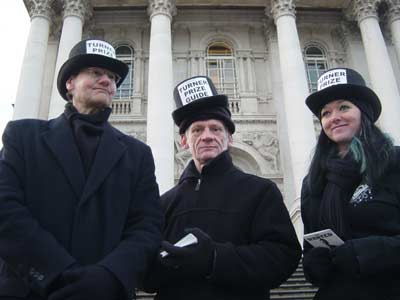 Charles Thomson, Daniel Pincham-Phipps and Laura Mathews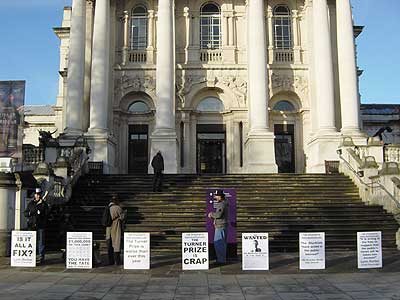 Latest coverage in North London Times series (13.12.08)
"Boot Serota out of the Tate" - Charles Thomson at the demo video
"I love the Stuckist conspiracy theory, that Nicholas Serota is a kind of machiavellian Skeletor who manipulates the government and the people"
- Mark Leckey, 2008 Turner Prize winner, The Guardian (3.12.08)
Actually the conspiracy theory, or rather reality, is that he merely manipulates the Tate board; the government aren't interested, and most of the people haven't a clue. See 3amamagazine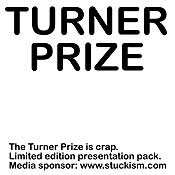 Art critic, Jonathan Jones: "On the way in I was presented with this lovely official-looking pack, which actually says, 'The Turner Prize is crap', and it's given you by the Stuckists." Guardian video (2.12.08).
Around 160 of these limited edition signed packs were presented to guests arriving for the prize. The packs were signed and numbered. They contained a Turner Prize leaflet and button badge, a Serota painting postcard, the catalogue from the Stuckists Go West show and a reprint of an article from The Jackdaw, online here.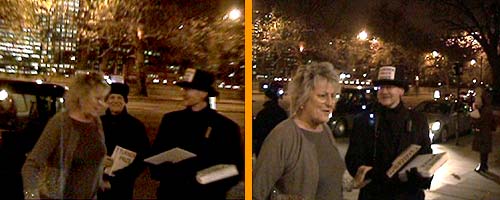 In contrast to Jonathan Jones, Germaine Greer does not take a Turner Prize pack.
Also in the picture: Daniel Pincham-Phipps (left) and Charles Thomson (right).
Stills from video by Rick Friend.
Jan Younghusband, Channel 4, commissioning editor of arts, poses by Stuckist placard. Photo here.

Maggie Tran meets the Stuckist demo, Tate site (3.12.08):

"The first thing that I encountered as I approached the Tate Britain were The Stuckists handing out anti flyers against it (and The Tate). Are they there to piggyback onto the media attention of the Prize…? I don't even want to start going into that debate. Amusingly they handed a flyer to Nicholas Serota (or an uncanny lookalike) who was passing through.
Posted by Charles Thomson 4 pm, 3 Dec:
"Sir Nicholas is indeed a keen collector of our protest material, having written to me, "we should ensure that the Tate Archive, as the national record of art in Britain, properly represents the contribution of the Stuckist movement to debates about contemporary art in recent years. I have asked our Archivist to check what material we have recording your various events and demonstrations, particularly relating to Tate and the Turner Prize." You can see some stills of him taking the leaflet this year on http://www.3ammagazine.com/3am/stuck-inn-v-what-is-wrong-with-sir-nicholas-serota-part-ii/ There's a video of him in 2006 making a helpful suggestion for the protest leaflet's content: http://www.stuckism.com/Videos.html#Serota Images of this year's demo at http://www.stuckism.com/Tate08.html I hope this helps.
Charlotte Appleyard on never-happy Stuckists on Huffington Post (2.12.08)
Charlotte Appleyard is Director of Development at Outset Contemporary Art Fund, which raises money to buy stunning works of art for the Tate, such as an idea for a queue (only £20,000) and a filing cabinet, costing a mere £15,000.
Dan Fox in Frieze magazine does not like the Stuckists (3.12.08).
See Stuckist reaction on 3ammagazine (2.12.08).
"Christmas trees protest against the Turner Prize": Heyoka magazine.
T he demo is on Bloomberg (2.12.08) and Coxsoft here and here + his BBC blog response.
Tim Davies, young critic competition winner, quotes Stuckists on Turner Prize: "The work is not of sufficient quality in terms of accomplishment, innovation or originality of thought to warrant exhibition in a national museum." The Guardian (1.12.08)
Why the Stuckists didn't demonstrate last year: National Post (28.11.08)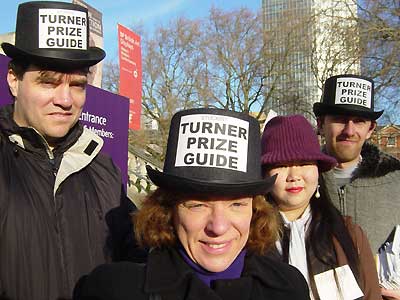 Steven Yates, Jane Kelly, Shelley Li, Edgeworth Johnstone.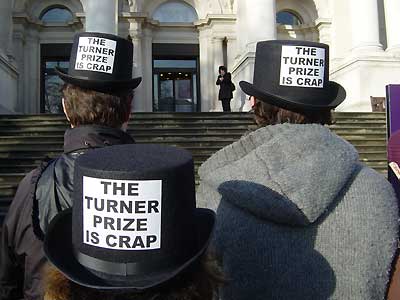 Click image for enlargement.